The definition of a dilemma is a choice between two equally undesirable alternatives. Indeed as dilemmas go, at one point such choices for a Scotland manager were between either of Scott Dobie or Stephen Crawford to perform haplessly upfront. At least Levein, unlike Vogts has a dilemma of his own making.
In 2002, a 2-0 defeat to Portugal saw both those strikers lead the line. At probably the lowest point of Scotland's international history, shortly following the infamous 2-2 with the Faroes, quality was few and far between. This summer however, Scotland fans can proudly claim no less than 3 forwards commanding a total of £25million pounds in transfer fees. Nevertheless being Scotland, such delights don't come without complication.

The standoff between Levein and Steven Fletcher has been well documented since his notorious 'text call-off' prior to a home international game in February 2011. 18 months later and the stubborn refusal by both men to reach a mutually beneficial compromise has left both sides with much to lose.
Fletcher as a Hibs, Burnley, Wolves and now Sunderland striker is highly unlikely to ever make a great statement at any club-level stage. Despite scoring impressively for relegated teams, even at Sunderland the best Fletcher can hope for is securing a top 10 finish for the Wearside club. On the other hand as a talented striker, the relative lack of competition at international level offers a route to make an impression on the world stage. As unlikely as it may be to compete in a European or World Cup finals with Scotland, performances at this level are likely to be seen and remembered far further and far longer than anything in red and white. Despite this a year and a half later, Fletcher's stubbornness assures the international wilderness will continue; for the detriment of both him and his country's manager.
During his relatively short time as Scotland coach, Levein has found plenty of time to show off a notorious stubborn streak. First shown by his refusal to accept responsibility and apologise for a shocking 4-6-0 approach to a mediocre Czech side, steadfast and indefensible positioning have become all too common. Most recently a statement of intention not to pick players from the relegated Rangers was reversed in impressively brazen fashion with the inclusion of Ian Black for the friendly with Australia. Rather than explaining a change in thinking or creating an exception, Levein refused to accept his early position, reckoning that media focus should be on other issues- naturally making a furore with the Tartan Army that resulted in the unfortunate booing of Black's debut late in the game.
Levein's loyalty to Miller as Scotland's number 9 further threatens to alienate himself from the home support. With Rhodes' excellent performance against Australia and now an £8 million transfer to Blackburn, it is entirely possible that Scotland could line up against Serbia next weekend with none of the three aforementioned forwards in the starting XI. Though loyalty is to be often admired, his persistence in calling up ex-club players from Hearts and Dundee United, often against better options elsewhere is to the detriment of the international side. Gary Kenneth, Goodwillie, Stevenson, Webster and Black have all been called up ahead of arguably more talented alternatives. Either way, Levein's decisions have further alienated himself from popular opinion.
Pragmatists would point out that a manager's decisions are made not to be popular but for the success of the team. However with Levein's, at best, chequered history of balancing the correct decision with the conservative alternative, there is a great deal to be fearful of going into next week's double-header. Despite Scottish international football being at a point of great optimism, with Real Madrid's Jack Harper getting his u17 international debut midweek and more and more players gracing the Barclay Premier League, such indecision is a concern.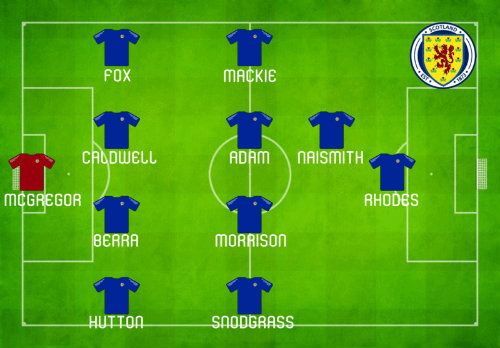 Unlike the unchanging, undaring and unimaginative line-ups of his early games, it is time to take a risk and take the game to the opposition. The Serbia squad is no longer the side of the 2010 World Cup with notable absentees such as Vidic and Stankovic and are a team that should be attacked. In a stadium that can produce enormous atmospheres and take the role of the clichéd 12th man, the opportunity to take the initiative is very much available. If we are to get behind Levein and his questionable dealings with the likes of Fletcher, all could be forgiven by putting his faith behind Rhodes and being rewarded with a performance he can surely offer. However, to opt for steadfast conservatism and choose the exiled MLS retiree is to invite both criticism and the Serbian attack. Give the Scotland fans a performance to be proud of, and show that it's Fletcher and not you who's ego needs removing. Glorious failure can be excused (if not wilfully accepted) but rolling over and going out with a whimper will not.
Please Levein, let Hampden roar.