Before the final, the plan for this article was to have it titled "It's not Spain that are Boring, it's Just the Games They Play in That Are", but with a rampant 4-0 victory and a bit of revisionist history, it appears that Spain well and truly got rid of their mis-placed 'boring' tag.

Spain's 4-0 victory was the highest winning margin in European Championships Final history. Although to some degree the score was a result of an unfortunate Italian injury that forced them to 10-men for the last half hour, the result was nevertheless an entirely deserved one that reflected the quality of the Spanish flamenco on show.

In their third finals victory in five years, the Spanish have shown themselves to be the most dominant international force in modern times. Some have even likened them to be near to, if not greater than the wonderful Brazil team of the early 70s. Regardless of where they would appear in a hierarchy of football team history, they are undoubtedly a team worthy of such plaudits.

In many ways the boring tag appears to be as unjust a claim as the infamous "you can't win it with kids". In the same manner that every adjective Andy Murray uses must be 'unbelievable', the term 'boring' is an utterly undeserved and misused term. In a tournament that included a 'plucky' and fairly well disciplined Greek quarter-finalist, it seems that such an adjective was attached to the wrong struggling Euro economy.

For the sake of argument, perhaps we entertain the 'boring' connotation for a moment. If everything must balance, for something to be boring, something else must be conversely exciting. At Euro 2012 which teams were exciting? The attacking but ultimately flawed Germans? The organised yet cut throat-less Italians? The flair-full and one-dimensional Portuguese?

Each one of these teams offered their own exciting aspects to Euro 2012, yet all came away empty handed. Is it the mortal, beatable reality of these teams that make them exciting? Their inability to provide clean sheets?

A search for boring teams include Rangers in their 2008 Uefa Cup run, Chelsea's semi finals legs and final from this season, Greece's 2004 European Championships success... the list goes on. The common denominator? Organised defending and a distinct lack of attacking prowess. By this reasoning surely England could be seen as a distinctly boring team. A team after all that has won 6 games in the last year 1-0 and defended resolutely (and effectively) for 120 minutes against Italy, scored four (out of five) goals from crosses and enjoyed only minimally more possession than the hapless Republic of Ireland.

Perhaps most surprisingly is that Spain's stats are in total contrast to the belief postulated by many before revisionist history allowed a divergence in opinion.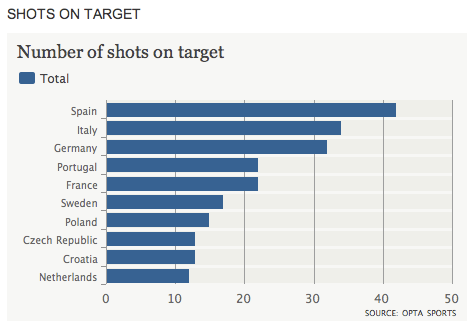 As finalists, you might expect them to gain more shots through playing at least 1 more game than most other teams. Surely they were less frustrating too? Like many other stats their shooting accuracy was the best in the tournament.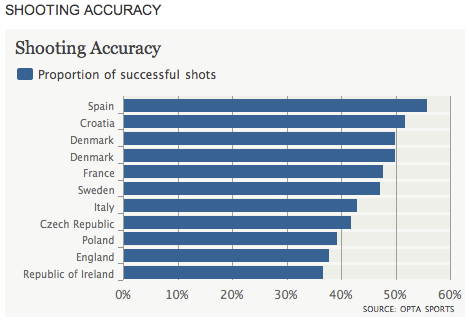 Spain hold the ball the most, concede the least, score the most, shoot the most, and miss the least. They conceded only 1 goal in 6 games which came from 1 of only 6 shots conceded on target in their first 5 games (Italy had 10 on target in the final). What other attribute determine the excitement factor of a football team or game? Corners? Yellow cards? Attempted crosses? Goal-mouth clearances? Although they can add drama, they surely aren't the best part of football.

In many ways the frustration into 'dull' games involving Spain are not because of the way Spain play, but because of the way the opposition set up to defend and stifle their attack. Just like Chelsea, Rangers and Greece have defended their way to finals, teams have recognised the danger at trying to play the Barcelonas and Spains at their own game. It's not Spain that are boring, it's just the games that they play in that are.

If goal mouth incidents are the key to 'exciting' football, then perhaps Roy Hodgson's only mistake was not playing Peter Crouch up front with Andy Carroll? The accusation that Spain are boring is misguided but not necessarily without cause. The frustration that many experience is not out of a notion of 'boring' but out of irritation that they don't score more, or create more chances than their possession might suggest they should. Let's be honest, if England or any other home nation could do a Chelsea and defend their way to a final, it wouldn't be boring; it would be disciplined, determined, organised, full-of-heart and a dozen other meaningless synonyms to dull.

Those who want 'exciting' football would do no better than turning up the local football pitches on a Sunday morning. If you're lucky you might see a big man up front, a half dozen yellow cards, a sending off, goal mouth scrambles, miskicks, many attempted crosses and the odd errant offside call.

If that sounds fun, then lets hope England continue to play that way. Personally, I'll continue to choose Xavi and Iniesta for my entertainment.